Tell us how you first met? Who, what, when, where, why? Give us the dirty details.
"We met on eHarmony. We messaged each other back and forth for a few days before going on our first date at the Pump Haus in Cedar Falls. We had four dates within five days, and then Katelyn had to go back to Dubuque to finish up student teaching at Loras. The best part is that Katelyn never had to pay a dime for eHarmony because it was "free weekend." End of December 2016 was when we first met. We started dating early January of 2017."
When did you know he/she was the one? Was there something he/she did?, etc.
Katelyn - "I knew Jordan was the one because he could put up with my goofiness and my roommates. He also had a very big heart. (His good looks helped.) This was approximately 2 or 3 months in to the relationship."
Jordan - "I knew Katelyn was the one because of how easy it was to make distance work in the first few months of our relationship. I knew it wasn't going to be easy with us both teaching and being apart so much during the week. We were able to have great phone conversations and Facetime video chats. Everything was just so effortless and we just clicked on so many different levels and could always be ourselves around each other."
Tell us about the proposal. (Did you see it coming? How long was it in the planning? How did you feel? Nervous, excited, freaking out?)
Katelyn - "We started talking about marriage during the summer of 2017. We looked at rings in August, and I found one that I really liked. Jordan had asked my parents for my hand in marriage in October of 2017 while I was gone on a conference (but I knew he was doing it). He got little nervous when my mom responded, "Well....I don't know...............well, of course!". She made Jordan sweat it out a little bit. The planning for the engagement started right away. I had told Jordan that I wanted our family and friends to be there to celebrate our engagement with us. I kept prying him for information, but he wouldn't budge. He did an amazing job at planning it. We had gotten tickets to a University of Northern Iowa football game (Saturday, November 18th), and we invited my parents to go with us. We went to lunch and then the game. The only hint that I had that anything was going on was in the morning. I was going to paint my nails, but then I told Jordan that I didn't really want to do it. He then pushed me a little to do it, since I was planning on doing them. I didn't think anything of it at the time. At the game, I noticed my mom and Jordan were frequently checking their phones. On top of that, Jordan wanted to leave before the game was even over, which was out of the ordinary. We headed back to our apartment. My mom had brought dessert to celebrate Jordan's birthday a little late. We walked up to the apartment. When we got to the door, Jordan knocked on the door. I thought that was kind of weird. Then, the door opened. The apartment dim. There were icicle lights hanging everywhere and a beautiful bouquet of flowers on the table, with flower petals in the shape of a heart and a box in the middle. In the background, our song (In Case you Didn't Know by Brett Young, which was the first song we danced to together) was playing. Jordan's parents were there filming, and my mom had pulled out her iPad to record the whole event. I was in shock as we stepped into the apartment. Jordan got down on one knee and said some really sweet things. I don't remember any of it because I was so happy. I, of course, said yes. After that, a whole bunch of our family and friends were waiting at the bar next to our apartment where we had our first date. They came up and celebrated with us. It was perfect...and I couldn't believe how well Jordan pulled it off!"
Jordan - "I have to say I was a little nervous asking Katelyn's parents if I could marry their daughter. I had supper with them at their house when Katelyn was at a conference, and before I left we were talking in the kitchen when I asked them if I could marry Katelyn. They let me sweat it out for a few seconds, but did that just to mess with me. They were both really happy for us. Planning the whole day out took some time. I wanted to make everything as great as I could, and had a lot of help from family and friends. When I got down on my knee there was so much running through my head and I was so happy to be proposing to the woman of my dreams."
Tell us the one thing you love most about each other.
"We both agree that one thing we love most about each other is the ability to be our goofy selves around each other."
If you feel comfortable, share with us something silly or quirky the other person does.
Jordan - "Katelyn likes to make something like a beaver face when she is feeling extra goofy at random times when we are together."
Katelyn - "Jordan can quote just about any movie or T.V. show after watching it just once. Some of his favorites are: Step Brothers, Anchorman, Dumb and Dumber, and Tommy Boy. This drives me nuts because I can't remember any quotes."
Besides getting married - whats the one thing you are looking forward to on your wedding day?
"Celebrating an amazing day with our friends and family. We don't often get to see all of them, and it will be quite the show to have them all there together... and dancing."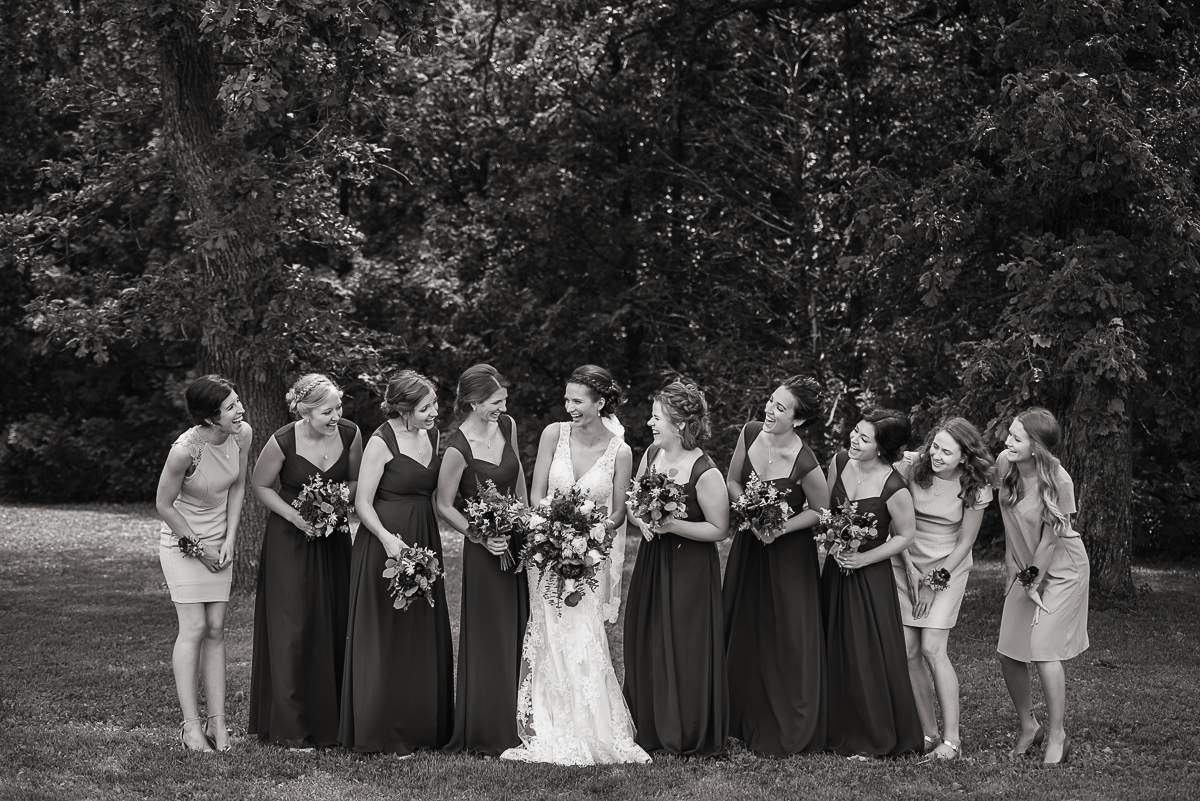 Explain why you made the decision to work with Lora & Isaac?
"We met Lora and Isaac at a wedding show in Decorah. They seemed like really down-to-earth people and we thought their photography was beautiful."